These two programs are research based, comprehensive, systematic, explicit, sequential, multi-sensory reading and spelling programs.  Using a revolutionary phonetic teaching technique, the student discovers how all 24 consonant sounds and 18 vowel sounds are articulated.  The student describes what is working in his/her mouth to make the sound (tongue, lips, teeth, etc.).  He/She labels the sound with a mouth picture and name (label) for each sound like Lip Poppers, Tongue Tappers, etc...The student develops phonemic awareness through the use of colored blocks that help differentiate between sounds in words. 
The client is taught symbol imagery in a variety of exercises which are designed to strengthen the ability to visually recall the letters and words.   He/She progresses in one syllable words from 2, 3, 4, to 5 sounds within a word.   Ten main Spelling rules are taught and reinforced at each level.  Word attack skills and syllabication is taught within 2, 3, 4, and 5 syllable words.  The 1000 Most Commonly Used words are also taught for reading and spelling fluency.   Reading in context is practiced in age graded readers using the SRA and other reading series and comprehension strategies are developed at each level.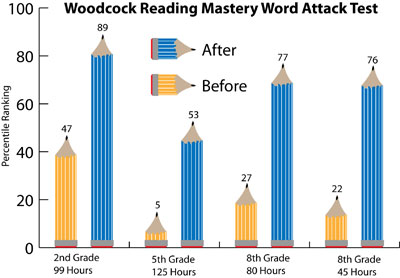 Results measured through diagnostic testing.